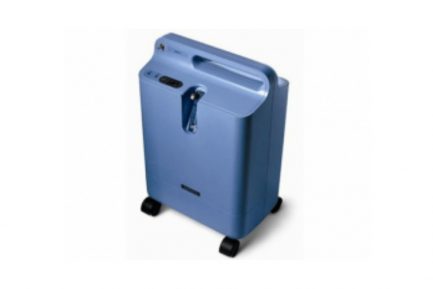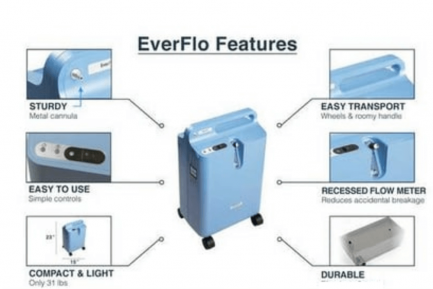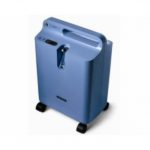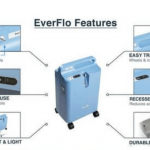 EverFlow Oxygen Concentrator With Humidifier Bottle and Oxygen Cannula
Philips
₹ 87,100.00
X
EMIs (Pay in Easy Monthly Installments)
AMERICAN EXPRESS BANK EMI PLANS
3 EMIs @ 12% pa
Rs. 19721.28/month
6 EMIs @ 12% pa
Rs. 10007.81/month
9 EMIs @ 12% pa
Rs. 6770.94/month
12 EMIs @ 12% pa
Rs. 5153.23/month
18 EMIs @ 12% pa
Rs. 3536.96/month
24 EMIs @ 12% pa
Rs. 2730.26/month
Call 1800-313-2353 for expert assistance!
Description
Existing Customers
Images,Videos & Manuals
Reviews (16)
Questions & Answers (6)
Description
Everflo oxygen concentrator  is a unique model that is stationary concentrator (Oxygen making machine for home). It delivers the features home care providers and patients deserve. It reduces operating costs with a design that is
1. It is Light weight  and  only 14 kgs.
2. It is Smaller and sleeker, dimensions 58 cm x 38 cm x 24 cm.
3. It is Easy to store and transport.
4. It has low maintenance.
5. Sound is very less .
6. Simpler for patients to use and maintain.
7.it is mandatory to use a voltage stabilizer.

[SHOP NOW]. Make sure to use 1 KV stabiliser as must to maintain life of the Oxygen Concentrator. We do not recommend the inverter, as the machine performance might get effected, make sure to use 1 KV stabiliser if you happen to use. Always have a back up cylinder on handy.
Everflo oxygen concentrator Intended Use:
It is for persons requiring oxygen therapy. The device is not intended to be life supporting or life sustaining. The device produces concentrated oxygen from room air.  This is used for low flow oxygen therapy of a patient. The oxygen from the air is concentrated using a molecular sieve and pressure swing adsorption process.
Features
Until now, most oxygen concentrators  have been bulky, heavy, and require ongoing maintenance by patients and home care providers. But the 5-liter per minute Ever Flo stationary concentrator  has been designed with a unique set of features to lower the costs of providing oxygen therapy while maintaining ease of use for patients.
Compact, ergonomic design takes up less space, looks less like a medical device
One of the quietest mainstream concentrators
No home care provider filter change for two years
Uses less power and produces less heat, so it's more patient-friendly
No filters for the patient to change
A recessed flow meter helps reduce the chance of accidental breakage.
It contains hour meter in it. One can adjust the number of hours usage and the flow rate. It is very simple in operating.
For now machines one has open the top of the machine by pressing the door with a screw  driver for taking out the connector between the machine and humidifier bottle.
Humidifier bottle is filled with water up to an optimum level between minimum and maximum levels. Connect the oxygen pipe to the humidifier and other and to the person using it. Put on the machine and adjust the flow rate between 0 to 5 liters.
Flow rate and number of hours is followed by doctor's suggestion.
Everflo oxygen concentrator is made in USA and lowest price in 5 liter oxygen Concentrator.
Specification
Input voltage
230 VAC +/- 10%
Input frequency
60 hz
Average power consumption
350 watts
Oxygen concentration* (at 5 lpm)
93% (+/- 3%)
Liter flow
0.5 to 5 liters per minute
Weight
31 lbs (14 kg)
Sound level
45 dBA typical
Dimensions
23" (584 mm) h, 15" (381 mm) w, 9.5" (241 mm) d
Required maintenance
Compressor intake filter: change every 2 years
OPI (oxygen percentage indicator)
alarm levels
Low oxygen: 82%, very low oxygen: 70%
Operating temperature
55°F to 90°F (12°C to 32°C)
Storage/transport humidity
-30°F to 160°F (-34°C to 71°C) up to 95% relative humidity
Operating humidity
Up to 95% relative humidity
Outlet pressure
5.5 PSI
Operating altitude
0 to 7,500' (0 to 2,286 m)
Warranty: 3 years service warranty Covered by Philips India Limited
Note: Product was not returnable
Questions and answers of the customers
A

Yes you can run. It is advisable to keep the machine off every 10 hours of usage. Let it cool down a while and you can run it again.

A

This is widely used machine and successful model in Philips. Philips is not providing purity indicator, but in case of less purity machine stops and need to contact your nearest Philips Service center

A

It can be used directly when there are no power interruptions or fluctuations. But it is recommended to put 1 KV stabilizer for machine safety. For further assistance please contact GVS Enterprises pltd or medicalbulkbuy.com

A

Oxygen cannula can be connected to bipap mask and you have to have a mask with oxygen inlet provision so that can be connected.

A

Yes , it provides 93 %(+/-3) purity at all levels between 1ltr to 5 ltr per minute flow rate.

A

1. There are 2 Philips srevice centers in Hyderabad, one in Sanath Nagar and another one in Somajiguda.

2. See 1.

3. Yes

4. No

5. 2 to 3 businessdays, COD only upto Rs.10,000
Only registered users are eligible to enter questions