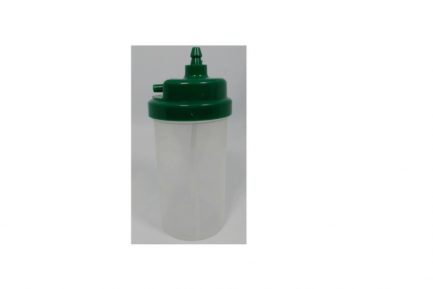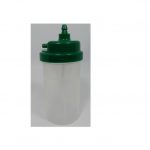 Humidifier Bottle For Gvs Oxygen Concentrator
GVS Oxygen
₹ 600.00
Call 1800-313-2353 for expert assistance!
Notify me when Product is available
Description
Reviews (1)
Questions & Answers
Description
Humidifier Bottle in Oxygen  Concentrator:
GVS Oxygen  Humidifier Bottle For Oxygen Concentrator is used to as spare part in Oxygen Concentrator. Oxygen produced by concentrator machine passes through the bottle attached to the concentrator called humidifier. The main purpose of this bottle is to maintain the humidity in the nostrils of person using it. As the oxygen coming out of the machine is dry in nature and nostrils get dry without using the humidifier. So to avoid this the oxygen is passed through the water in the bottle in the bubble form and comes out through oxygen pipe. There is a minimum and maximum level marking on the bottle. Water level shall be maintained below the maximum level and at an optimum level. If one pours more water  then there is a chance of water coming out of the bottle and flows through the oxygen pipe. So at lower flow rates one can pour maximum level and at high flow rates less level of water is maintained. Generally mineral water is preferred. If normal water is is used there may be scaling formation in the bottle and pipe may blocked for the flow  of oxygen. So cleaning shall be done whenever scaling occurs. Check the water content before using the concentrator and nut shall be tightened to avoid leakage of Oxygen gas.
PRECAUTIONS:
Oxygen concentrator shall not be pulled by the Oxygen pipe attached as it may damage the nut of the humidifier bottle.
Keep one additional Humidifier bottle to avoid the inconvenience  to the person using for uninterrupted supply of oxygen.
Questions and answers of the customers
There are no questions yet, be the first to ask something for this product.
Only registered users are eligible to enter questions