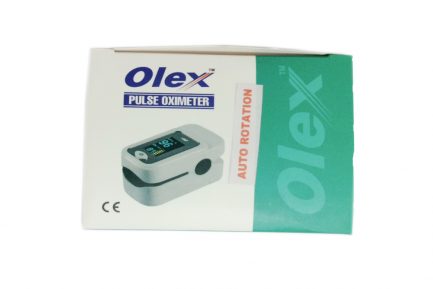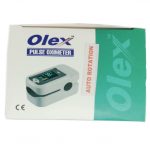 High Quality Auto Rotation Screen Finger tip Pulse Oximeter
₹ 5,000.00
X
EMIs (Pay in Easy Monthly Installments)
AMERICAN EXPRESS BANK EMI PLANS
3 EMIs @ 12% pa
Rs. 1020.07/month
6 EMIs @ 12% pa
Rs. 517.65/month
9 EMIs @ 12% pa
Rs. 350.22/month
12 EMIs @ 12% pa
Rs. 266.55/month
18 EMIs @ 12% pa
Rs. 182.95/month
24 EMIs @ 12% pa
Rs. 141.22/month
Call 1800-313-2353 for expert assistance!
Notify me when Product is available
Note:
Bulk discount cannot be applied if a coupon
code or MBB Cash is used during order creation.
Description
Reviews (0)
Questions & Answers
Description
Finger Pulse meter Description:
Olex Finger Pulse meter is an innovative way to keep a track of heart beats and oxygen levels. It is easily portable and light in weight.Features and Benefits: Easy to use and operate. Accurate results. Portable and compact. For people who have asthma or COPD conditions. This device is based on all digital technology, is intended for noninvasive spot check  measurement of functional oxygen saturation of arterial. Hemoglobin  (SPO2). This can be used to measure human Hemoglobin saturation heart rate through finger. The product is suitable for adults  who are using oxygen machines,  portable oxygen machines or Oxygen therapy
Features :
blood oxygen saturation testing
heart rate measuring
automatic power off when not using
one button operation
very quick testing time: 5-20s
low power consumption
Low battery voltage indicator
Automatically switch off
Specifications:
Display type: Two Colour  OLED display
Dimensions: 65 mm  X 35 mm  X 40 mm
SPO2 : Measurement range: 35~99%
Accuracy:  +/- 1%  in the range (90%~99%) ; +/- 2% ( 70%~89%)
Pulse Rate: Measurement Range : 30bpm~240 bpm
Power : Two AAA 1.5 v alkaline batteries.
Operation
Insert two AAA batteries (make sure to  batteries are in correct polarities )
Turn the pulse oximeter on
put of finger into rubber hole with nail upward then releasing the clamp. Press power button to turn the pulse oximeter on. It will automatically powered off when no finger in the device for longer than 16 seconds. The display interface of LED rotates after pressing the power button less than 0.5 s.
Cleaning:
Switch off the power and take off the batteries before cleaning.
Never immerse or soak the pulse oximeter.
Never use cleaning agents.
Clean with cotton or soft cloth moistened with water.
After cleaning, wipe off the water with soft cloth.
Allow the product to air dry.
Cautions
Keep the operating environment free of dust, vibrations, corrosive, or flammable materials, and extremes of temperature and humidity.
The batteries must be taken out from the battery compartment if the device will not be used for a long time.
The device shall only be used if the battery cover is closed.
Key Features
Auto Rotation Of Screen
Used to Measure Blood Oxygen Saturation
Questions and answers of the customers
There are no questions yet, be the first to ask something for this product.
Only registered users are eligible to enter questions