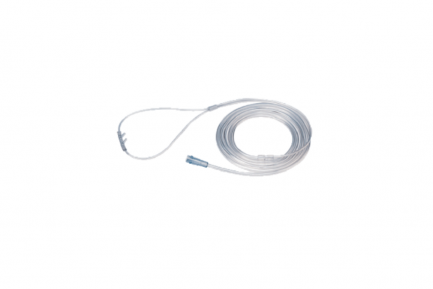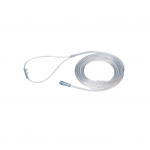 Oxygen Cannula Adult – 3.5 Meters
Romsons
₹ 310.00
Call 1800-313-2353 for expert assistance!
Note:
Bulk discount cannot be applied if a coupon
code or MBB Cash is used during order creation.
Description
Reviews (0)
Questions & Answers
Description
Cannula Adult
Cannula Purpose and advantage:
This long oxygen Cannula set is used for oxygen passage from cylinder regulator to the person consuming the oxygen gas. It is also used with Oxygen concentrator. The main purpose is supplying oxygen gas to the person consuming and it is very convenient when the person moving on bed or a chair as the length is more. The additional advantage of  this with oxygen concentrator is that patient can maintain some distance with oxygen concentrator while sleeping. This reduces the sound of Oxygen concentrator while sleeping.
Features:
Manufactured from soft, non-toxic PVC thus non irritating even in long term use.
System of attachment provides maximum freedom to the patient and leaves the patient's mouth free for nutrition & communication. There is adjustable mechanism when the person is using.
Twin bore/ nasal tips are designed to ensure equal volume of oxygen to both air passages.
Soft funnel shape connector facilitates easy connection to the oxygen source.
Multi channel tube ensures the supply of oxygen even if the cannula kinks accidentally.
Non-sterile, individually packed in poly bag.
Avoid bends in the pipe while using as it may obstruct the flow of oxygen.
Maintain Optimum level of water in Humidifier bottle to avoid flow of water into the Oxyset.
In case the patient need verification of gas flow, dip the two opening of nasal pipe in a bowl of water and while the oxygen is released from cylinder or Oxygen Concentrator then one can observe oxygen bubbles flowing through the water. If there is no bubble observed then necessary check has to be done at humidifier or at regulator to find the leakage and do rectification, Then proper care has to taken and stop the leakage.
Available Configuration
Size : Adult
Length : 3.5 Meter
Note: Improve life of your cannula by taking proper care of it and washing regularly. The biggest danger in not changing or washing your cannula on a regular basis is the buildup of bacteria, which may  cause infections.
Questions and answers of the customers
There are no questions yet, be the first to ask something for this product.
Only registered users are eligible to enter questions