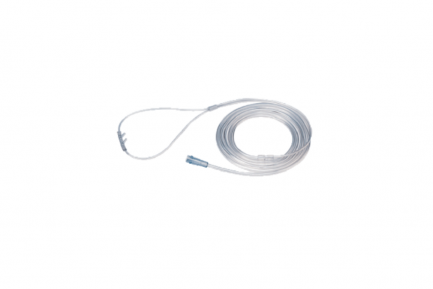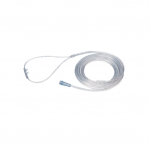 Oxygen Cannula Adult – 2 Meters
Generic
₹ 180.00
Call 1800-313-2353 for expert assistance!
Description
Reviews (1)
Questions & Answers
Description
Nasal Cannula Adult-2 Meters
Nasal Cannula Description:
Nasal Cannula is a oxygen tube delivers additional oxygen / airflow to  who need help in breathing. Patients might need supplemental oxygen for many reasons, such as during hospital, surgery and in certain respiratory conditions and COPD patients.
A oxygen cannula is a plastic tube that fits around the ears, and it has two prongs that are placed in the nostrils and oxygen will flow through these prongs. The oxygen nasal cannula is connected to an oxygen cylinders, a portable oxygen cocentrators, home oxygen machines or a wall connection in a hospital via a flow meter.  The prongs are placed in or under the nostrils and secured to the user by hooking the tube around the ears . The other end of the tube is attached to an oxygen supply such as an oxygen concentrator or cylinder. These can carry up to 5 LPM ( Liter Per Minute) oxygen.
These can be available in different lengths (2 mts, 3.5 mts and 7 mt Oxygen cannula) which can be easier to move from room to bath rooms.
Features:
Manufactured from soft, non-toxic PVC thus non irritating even in long term use.
System of attachment provides maximum freedom to the patient and leaves the patient's mouth free for nutrition & communication.
Twin bore/ nasal tips are designed to ensure equal volume of oxygen to both air passages.
Soft funnel shape connector facilitates easy connection to the oxygen source.
Multi channel tube ensures the supply of oxygen even if the tube kinks accidentally.
Non-sterile, individually packed in poly bag.
Available Configuration
Size       : Adult
Length : 2 Meters
Cleaning
Cannula should be cleaned  frequently  and replace with new cannula every 1 month so infections wont catch.
Clean the part (prongs) that inserts into your nose, as well as tube that connects, with an alcohol swab once in a day. If you are on oxygen 24 hours a day, seven days a week, it might be easier for you to have an extra cannulas (or at least two ) one to use while the other is being wiped down and allowed to dry.
Alternate the cannulas for two weeks only, then discard them and use new ones.
Questions and answers of the customers
There are no questions yet, be the first to ask something for this product.
Only registered users are eligible to enter questions