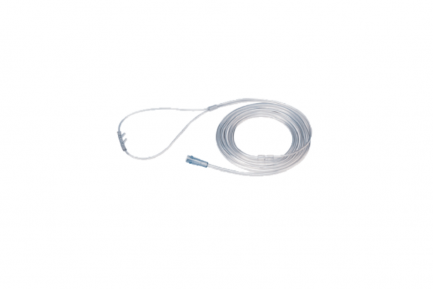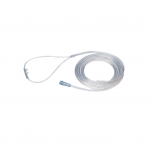 Oxygen Cannula-7.6m Tubing (Imported For Everflow Oxygen Concentrator)
medicalbulkbuy
₹ 1,200.00
Call 1800-313-2353 for expert assistance!
Description
Reviews (1)
Questions & Answers
Description
Oxygen Cannula
Oxygen Cannula is a device used to deliver supplemental oxygen or airflow to a patient or person in need of respiratory help.
Oxygen Nasal Cannula allows the delivery of oxygen gas concentrations in between 24 to 40% at flow rates between 1 to 6 L PM.  This makes it suitable for use with Oxygen Concentrators units. One end of the plastic tubing is equipped with curved nasal prongs which fit into the front of the nostrils and with loop hooked over the ears and the other end of attached to oxygen source.
Nasal oxygen cannula is used wherever small amounts of supplemental oxygen are required, without rigid control of respiration, such as in oxygen therapy. Most cannulas can only provide oxygen at low flow rates—up to 5 liters per minute (L/min)—delivering an oxygen concentration of 28–44%. When the rate of flow is above 5 L/min, it can result in discomfort to the patient, drying of the nasal passages, and possibly nose bleeds (epistaxis).  Also with flow rates above 6 L/min, the laminar flow becomes turbulent. The oxygen therapy being delivered is only as effective as delivering 5-6 L/min.
The nasal cannula is often used in elderly patients or patients who can benefit from oxygen therapy but do not require it to self respirate. These patients do not need oxygen to the degree of wearing a non-breather Mask . It is especially useful in those patients where vasoconstriction could negatively impact their condition, such as those suffering from strokes.
A nasal cannula may also be used by pilots and passengers in small, unpressurized aircraft that do not exceed certain altitudes. The cannula provides extra oxygen to compensate for the lower oxygen content available for breathing at the low ambient air pressures of high altitude, preventing hypoxia. Special aviation cannula systems are manufactured for this purpose.
Application : This can be used with all makes of Oxygen concentrators and Oxygen regulators. Generally patients who suffer from sleeplessness due noise caused by Oxygen concentrators this is  the best product. One can keep the oxygen concentrators away from them and use it. As the length is 7.6 meters it is  also helpful when patients want to use oxygen cylinder or concentrator when they go to bath rooms.
Questions and answers of the customers
There are no questions yet, be the first to ask something for this product.
Only registered users are eligible to enter questions