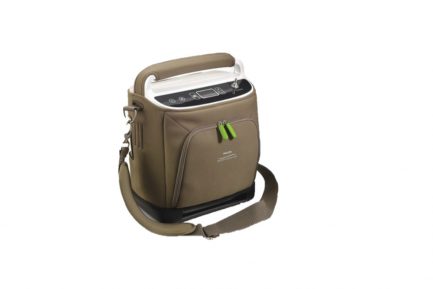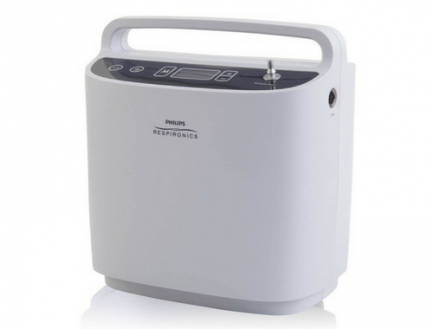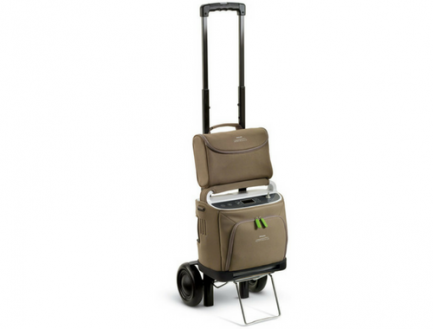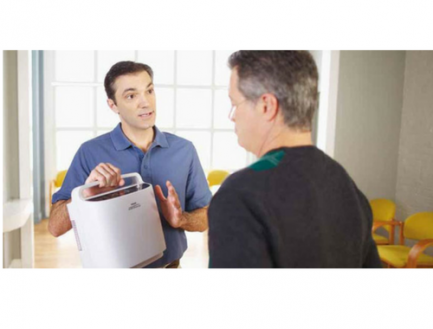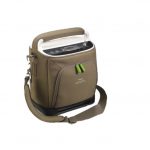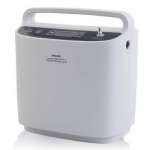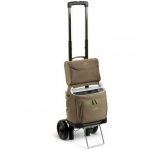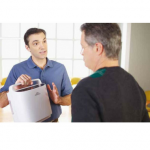 SimplyGo Philips Portable Oxygen Concentrator
Philips
₹ 200,000.00
X
EMIs (Pay in Easy Monthly Installments)
AMERICAN EXPRESS BANK EMI PLANS
3 EMIs @ 12% pa
Rs. 52703.43/month
6 EMIs @ 12% pa
Rs. 26745/month
9 EMIs @ 12% pa
Rs. 18094.76/month
12 EMIs @ 12% pa
Rs. 13771.56/month
18 EMIs @ 12% pa
Rs. 9452.22/month
24 EMIs @ 12% pa
Rs. 7296.39/month
Call 1800-313-2353 for expert assistance!
Description
Reviews (1)
Questions & Answers
Description
SimplyGo Philips Portable Oxygen Concentrator
A new breed of POC for continuous and pulsed oxygen delivery
SimplyGo  Philips Portable Oxygen Concentrator is the only to offer both continuous flow and pulse-dose delivery in a single device weighing only 10 pounds.
Large oxygen output for all patient needs
SimplyGo Philips Portable Oxygen Concentrator  has more than twice the oxygen output of any POC weighing 10 pounds or less. That means SimplyGo is able to keep up with your patients' portable oxygen needs today and tomorrow.
Intuitive control panel is easy to read
SimplyGo's  streamlined control panel is convenient and easy to use. All device operations are immediately at your fingertips.
Carrying case for convenience on the go
SimplyGo's attractive multi-purpose carrying case allows users to wear it over the shoulder or secure it to the mobile cart. An extra battery, cannula or other accessories fit in the zippered pouch.
Comes with everything you need so patients are good to go
Basic system includes Simply Go portable oxygen concentrator, carrying case, mobile cart, one rechargeable Lithium Ion battery, DC and AC power cords, accessory case, and user manual.
Exchangeable batteries are powered for success
The battery is immediately accessible. One of the keys to Simply Go's portability is its lightweight and compact battery. It is easily accessible and can be quickly changed by patients. There are no awkward external battery belts, connectors, or hard-to-maintain internal batteries. Patients want more time? Simply take along more batteries.
Operating alarms keep you informed
Simply Go has several operating alarms that allow you to monitor its performance.
Long-life compressor for long-lasting care
Long-life compressor for long-lasting care
High impact resistant design sets new standards of ruggedness
With a long-life compressor, high-quality parts, a high impact resistant design and oversized cart wheels.Simply Go was built to set new standards of ruggedness. During development, Simply Go was rigorously tested and subjected to extreme conditions including impacts, vibrations, and temperatures to deliver reliable performance day in and day out.
Oversized cart wheels for smooth mobility
Simply Go's handy fold up cart features six inch oversized cart wheels for a smoother roll. And the cart's adjustable handle enables users to attach the accessory case and optional humidifier pouch if desired.
Warranty and service programs that fit your business
SimplyGo Philips Portable Oxygen Concentrator warranty and service programs are all about flexibility. With SimplyGo, you  two-years warranty. While some POCs must be returned to the manufacturer for service, your technicians can perform work on SimplyGo right in your shop, if your prefer.
Teams up with EverFlo for a complete oxygen solution
When Simply Go is teamed up with EverFlo —our low maintenance, lightweight, stationary oxygen concentrator for use in the home—you can create an oxygen-generating system that will meet the needs of nearly all patients while helping to reduce your cost of providing oxygen therapy.
Specifications:
General System
| | |
| --- | --- |
| Oxygen Concentrations | 86 to 97% at all settings % |
| Continuous flow settings | 0.5/1/1.5/2 l/min |
| Pulse mode bolus size | 1=12 ml/1.5=18 ml/2=24 ml/2.5=30 ml/3=36 ml/3.5=42 ml/4=48 ml/4.5=54 ml/5=60 ml/5.5=66 ml/6=72 ml |
| Sound level | ≤ 43 DBA at pulse setting 2 DBA |
| Size | 30.48 cm x 25.4 cm x 15.24 cm (11.5″ x 10″ x 6″) |
| Weight with battery | 4.5 (kgs) /10 (lbs) |
| Operating temperature | 5° to 40°C (41° to 104°F) |
| SimplyGo's battery duration | 3.0 (pulse dose setting of 2*) and 0.9 (continuous flow 2 LPM) hr |
| Filtration | Internal bacteria filter |
| Storage temperature (unit only) | -20° to 60°C (-4° to 140°F) |
| Altitude | Up to 3.048 m/10,000 ft |
| DC power – input | 11.5 to 16 VDC and 18 A max |
| DC power – output | 19 VDC and 7.9 A max |
| AC power – input | 100 to 240 VAC/ 50 to 60 Hz/1.7 A max |
| AC power – output | 19 VDC and 7.9 A max |
| Power consumption | 150 while charging/120 while not charging W |
| Alarm types | Low oxygen purity/No breath/High breath rate/No flow/Low battery/Depleted battery/Wrong battery/System technical fault |
| Lithium Ion battery | 14.4 VDC 6600 mah (LiIon), 0.7 kg (1.5 lbs), charge time is approximately 2 to 3 hours per battery from fully discharged |
Questions and answers of the customers
There are no questions yet, be the first to ask something for this product.
Only registered users are eligible to enter questions