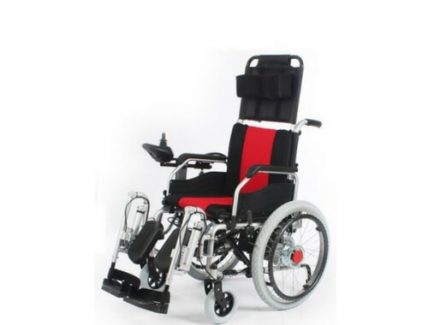 Reclining Electrical Wheelchair
X
EMIs (Pay in Easy Monthly Installments)
AMERICAN EXPRESS BANK EMI PLANS
3 EMIs @ 12% pa
₹22441.46/month
6 EMIs @ 12% pa
₹11388.19/month
9 EMIs @ 12% pa
₹ 7704.86/month
12 EMIs @ 12% pa
₹5864.02/month
18 EMIs @ 12% pa
₹4024.82/month
24 EMIs @ 12% pa
₹3106.85/month
Call 1-800-3000-2613 for expert assistance!
Rs. 79,999.00
5 in stock
Existing customers all over India
Description
Reviews (5)
Videos&Manuals
Questions & Answers
Description
Reclining Electric wheelchair Information:
Performance Parameters-
Model
G04
Overall size
1070*685*1230mm
Folded size
775*380*760mm
Seat size
450*430mm
N.W.
49/54kg
Height between seat and
540/515/495mm
Height between
100/65/50mm
footplate
footplate and ground
Armrest height
230mm
Backrest height
395mm
Max loading weight
100kg
Front wheel diameter
8 inch
Rear wheel diameter
22 inch
Battery (*1pcs)
12V 12AH/20AH
Motor (*2pcs)
250W
Battery charger
AC 220 (110V) ±10%
50-60HZ
Control
35A
Max driving distance
20km
Degree of protection
IPX3
Max safe slope
6°
Turning radium
≤1.2m
Static stability
9°
Reversing width
1.4m
Climbing angle
6°
Tire pressure
2Kgf/m2
Obstacle climbing
40mm
Ground clearance
100mm
Product Performance
This series of electric wheelchairs are powered by battery , driven by DC Motor.Users control direction and adjust speed by joystick control.It is suitable for application of low speed , good road condition and small slope.
Main Structure
This series of electric wheelchairs are mainly composed of two parts:
Frame Part: frame, wheel, footrest, armrest, backrest etc.
Electrical Part: control, motor, battery.
Application Range
OurElectrical wheelchair is fordisabled and elderly people (less than 100kg)using as walking vehicle, suitable for outdoor middle  distance use.Do not run on the motorways.
Safety Instructions
General Driving Cautions:
Please keep your hands on the armrest to control the wheelchair.
Please practice in parks or other safe open places until you can use the wheelchair skillfully.
Fully practice driving in a safe place, to master principle of moving forward, stopping and turning circles.
Before driving to the road, please be accompanied by caregivers and confirm it is safe.
Please strictly follow traffic rules of the pedestrian, do not regard yourself as vehicle driver.
Please drive on the sidewalk and the zebra crossing. Do not drive on vehicle lane.
Steadily drive, to avoid driving in 'Z' line or sharp turn.
Please keep pressure of pneumatic tire properly, the abnormal tire pressure may cause unsteady driving or excessive lost of current.
Accompanied by Caregivers or Avoid Driving in These Conditions
Drive in bad weather, such as rainy day, heavy fog, strong wind, snow, etc.
In case of wheelchair is wet out, wipe the water immediately.
Drive on the bad road condition, such as muddy, trail, sand road, gravel, etc.
Drive on crowed road.
Drive on no fence side ditch, pond, etc.
Across the railway.
When you have to across railway, pause at turnoff to confirm it is safe, and make sure that the tires will not be  stuck by railway.
The electric wheelchair is only for personal use, do not carry people or goods, and do not for a traction purposes.
Precautions for Uphill and Downhill
Avoid driving on following places: steep hills, tilt places, high steps, channels etc.
Avoid driving on steep slopes, the slope range should be less than 9 degrees. Please carefully operate the control when drive on slopes.
Keep moving forward during uphill or downhill.
Slow down speed during downhill.
Avoid driving sideways on the steep.
Forbid driving on the stairs place and avoid crossing high steps.
Avoid crossing wide ditches.
During crossing ditches, keep 90° angel between tires and the ditches.
Battery and Charger
Charger Technical Data:
Input voltage: AC 220V (110V) ±10% Output voltage: 24V/DC Output current: 2A/4A
 The Usage and Maintenance of Battery:
Wrong operation of replacing battery may cause danger of explosion. Only the same or Reclining Electric WheelChair recommended type of battery is suitable for replacement.Make sure the battery poles are correct.
Key Points for prolong the battery life:Charge frequently, to keep battery power full. It's better to fully charge the battery if the wheelchair is not being used. If stop using for a long time, it's better to charge twice per month.
Audio Signal Indication
Description of LED light
The meaning of LED light
Explanation & Solution
The power is off, wheelchair
All LED lights are unlit with no
in standby or sleep mode.
Power is poor contacted.
sound
Fuse is tripping or burned
out.
The power is turned on, and
All LED lights are lit
self diagnose is passed, the
Less LED lights lit, less battery power
electric wheelchair can work
remaining.
well.
The leftmost red LED light is lit
The battery power is
To charge immediately. Or  battery is
extremely inadequate.
malfunction, and is not able to charge.
Two short beeps with five
The left side motor is
The left side motor is poor connected
indicator lights blink twice
malfunction.
or the wire is disconnected.
Four short beeps with five
The right side motor is
The right side motor is poor connected
indicator lights blink four times
malfunction.
or the wire is disconnected.
Check the brakes, and check if the
Six short beeps with five
Control is in over-current
motor drive mechanism is stuck.
Check the current by ammeter, if it is
indicator lights blink six times
protection status.
not excessive current, maybe the
control is malfunction.
Seven short beeps with five
Joystick doesn't reset, or the
indicator lights blink seven
Joystick is malfunction
connector is loose.
times
Eight short beeps with five
Control is malfunction.
Please consult your dealer for
indicator lights blink eight times
maintenance.
Nine short beeps with five
Control is malfunction.
Please consult service center for
indicator lights blink nine times
maintenance.
Maintenance Checking
The following is a checking list,electric wheelchair should be ordinal checked according to our suggestion. When you get on or get off the wheelchair,some self
checking is done automatically. For more your attention, we particularly list these self-checking items in A area.
Before use, please check if following parts are correct:
A area
1.Backrest
2.Armrest
3.Control position
4.Footrest
5.battery power
6.Clutch/adjusting lever for conversion between manual mode and electric mode
Check the following parts monthly, to avoid original parts loosing or wearing
B area
1.
Screws
2. Brakes
3.
Clutch/adjusting lever for conversion between manual mode and electric mode
4. The front and rear wheels and their tread pattern depth
5.
Connectors' of control and charger
C area
For safety, semiannual overall maintenance is needed.
Benefits:
This can use indoor and outdoor and can lead independent life with out attendant.
20AH battery gives more storage power and can use more time.
Easy to carry in car,easy fold able it leads to more mobility of person and attend all his or her requirements.
Can be Converted to manual mode easily by removing lock.
Three way adjustable joy stick left,right and also attendant controlled from back side.
Supplier history and many customers all over India.Availability Nearest customers feed back to your place.
All over India Supplier Logistics.
100% customer satisfaction for the price.
Warranty: 1 year service warranty only on motors
Questions and answers of the customers
There are no questions yet, be the first to ask something for this product.
Only registered users are eligible to enter questions