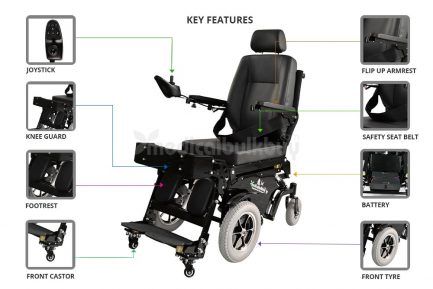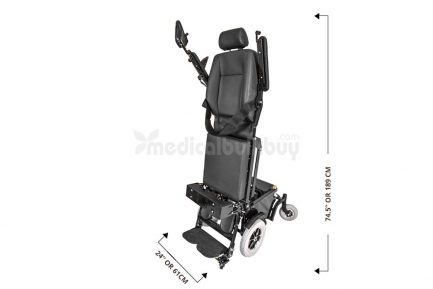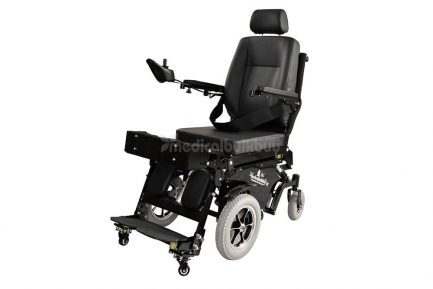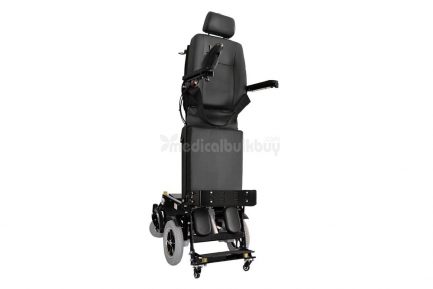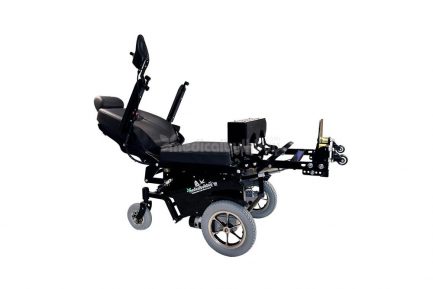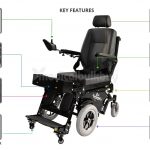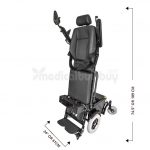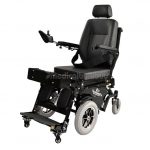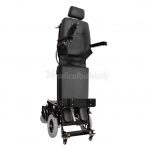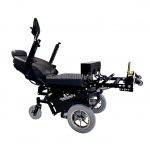 Standing Powered Wheelchair G03
₹ 295,000.00
X
EMIs (Pay in Easy Monthly Installments)
AMERICAN EXPRESS BANK EMI PLANS
3 EMIs @ 12% pa
Rs. 74804.86/month
6 EMIs @ 12% pa
Rs. 37960.64/month
9 EMIs @ 12% pa
Rs. 25682.88/month
12 EMIs @ 12% pa
Rs. 19546.73/month
18 EMIs @ 12% pa
Rs. 13416.05/month
24 EMIs @ 12% pa
Rs. 10356.16/month
Call 1800-313-2353 for expert assistance!
Description
Existing Customers
Images, Videos & Manuals
Reviews (3)
Questions & Answers
Description
Standing Powered Wheelchair

Name
Standing Powered Wheelchair
Model
G03
Overall size
111x63x128 cm
Net Weight
115 kgs
Seat size
45×50 cm
Backrest height
65 cm
Height between seat and
ground
51 cm
Max loading weight
100 kgs
Armrest height
29 cm
Battery
12 V 32 Ah*2 pcs
Front wheel diameter
30.48 cm
Battery charger
AC 220 (110 V) ±10%
50-60 Hz
Rear wheel diameter
20.32 cm
Max driving distance
≥20 km
Motor (*2pcs)
250 W
Max safe slope
6°
Control
50 A
Static stability
9°
Degree of protection
IPX3
Climbing angle
6°
Turning radius
≤1.2 m
Obstacle climbing
4 cm
Reversing width
1.4 m
Backrest adjust angle
≥60°
Tire pressure
2 Kgf/m2
Ground clearance
10 cm
Powered wheelchair Description:
This Multi function Powered Wheelchair can Sit, Stand and Recline. You can Stand using this power wheelchair and can do all your work while in Standing and seating and recline positions. You can reach your cabinets by uplifting your body using this Standing feature. No more worries.
Powered Wheelchair Safety Instructions:
Please keep your hands on the armrest to control the wheelchair.
Please practice in parks or other safe open places until you can use the wheelchair skillfully.
Fully practice driving in a safe place, to master principle of moving forward, stopping and turning circles.
Before driving to the road, please be accompanied by caregivers and confirm it is safe.
Please strictly follow traffic rules of the pedestrian, do not regard yourself as vehicle driver.
Please drive on the sidewalk and the zebra crossing. Do not drive on vehicle lane.
Steadily drive, to avoid driving in 'Z' line or sharp turn.
Please keep pressure of pneumatic tire properly, the abnormal tire pressure may cause unsteady driving or excessive lost of current.
Accompanied by Caregivers or Avoid Driving in These Conditions:
Drive in bad weather, such as rainy day, heavy fog, strong wind, snow, etc.
In case of wheelchair is wet out, wipe the water immediately.
Drive on the bad road condition, such as muddy, trail, sand road, gravel, etc.
Drive on crowed road.
Drive on no fence side ditch, pond, etc.
When you have to across railway, pause at turnoff to confirm it is safe, and make sure that the tires will not be stuck by railway
The electric wheelchair is only for personal use, do not carry people or goods, and do not for a traction purposes.
Powered wheelchair Precautions for Uphill and Downhill:
Avoid driving on following places: steep hills, tilt places, high steps, channels etc.
Avoid driving on steep slopes, the slope range should be less than 9 degrees. Please carefully operate the control when drive on slopes.
Keep moving forward during uphill or downhill.
Slow down speed during downhill.
Avoid driving sideways on the steep.
Forbid driving on the stairs place and avoid crossing high steps.
Avoid crossing wide ditches.
During crossing ditches, keep 90° angel between tires and the ditches.
The Health Benefits of Standing Wheelchairs
Those of us who can stand don't realize the awesome benefits of having this ability. There are natural health benefits from being able to change posture. If someone has to sit in one position for extended periods of time, health problems can naturally occur. Doctors have documented the benefits of standing equipment in medical journals over the years.
Physical Benefits of Standing Wheelchairs
Urinary Health:Urinary Tract Infections (UTI) are prevalent with wheelchair users. But, researchers have found that employing a standing machine or standing wheelchair will significantly reduce UTIs.
Circulation:Altering posture allows the blood to circulate around the whole body. For instance, sitting down in one place will cause the blood to stagnate and cut down blood flow to other areas of the body.
Spasticity:Remaining in one place, like sitting down, could cause muscle spasticity. Switching position will help loosen up the muscles and decrease spasticity.
Bowel Function:Inadequate bowel performance is a regular problem among wheelchair users. But, based on many scientific studies, standing up exercises might substantially improve bowel performance. Even while using a standing wheelchair the outcomes are similar.
Pressure Sores:Pressure sores happen from steady force on one spot of the body. Having the ability to stand upright in a wheelchair assists with the distribution of your body weight and promote healing of bed sores.
Contractures: Sitting down for an extended time might cause the joints as well as muscles to tense up. Standing up allows the muscles to be stretched out and exercised, reducing the level of tightness you feel in joints and muscles.
Bone Density:Certain research reveals that standing wheelchairs could improve bone density. The reason being that standing up places extra pounds on your bones compared to sitting down.
Warranty: 1 year service warranty only on motors
Note: This item is non refundable
Questions and answers of the customers
There are no questions yet, be the first to ask something for this product.
Only registered users are eligible to enter questions