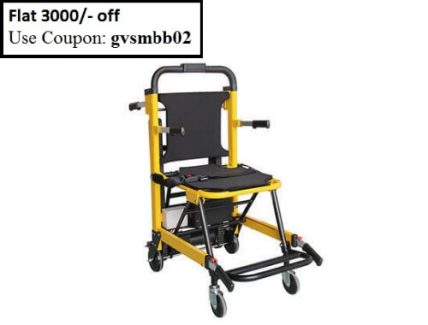 Stair Climbing Power Wheelchair
X
EMIs (Pay in Easy Monthly Installments)
AMERICAN EXPRESS BANK EMI PLANS
3 EMIs @ 12% pa
₹36722.39/month
6 EMIs @ 12% pa
₹18635.22/month
9 EMIs @ 12% pa
₹ 12607.96/month
12 EMIs @ 12% pa
₹9595.67/month
18 EMIs @ 12% pa
₹6586.06/month
24 EMIs @ 12% pa
₹5083.94/month
Call 1-800-3000-2613 for expert assistance!
Rs. 120,000.00
2 in stock
Existing Customers
Description
Reviews (1)
Questions & Answers (1)
Description
Stair Climbing Powered Wheelchair  is easy to use for one operator to transport disabled individuals up and down stairs at your home  or hospitals or any stairs. It is widely used in families that have member with disabilities or public organizations for handling the state of emergency evacuation.
Mobility represents an essential aspect of your quality of life. Audop Company Limited researched and developed this powered stair chair SC-P8, which not only can be used at home or anywhere else for disabled individuals, but also can supply fast transit service for disabled person in public places during emergency situations. This  Stair Climbing Powered Wheelchair  (SC-P8) with removable battery is designed for easy passing through narrow stairs, security checks and doors of stairway, subway and air plane. Thanks for its motorized design, the operator can use this chair with very little physical effort. To fully meet your requirements we offer further individual accessories and custom made service. This automatic stair climbing powered wheelchair can transport patient loading up to 180kg climb and descend stairs without carrying or lifting. The motor and track system carry the weight, reducing the risk of the chance of injury when on the stairs. See all other wheelchair models.
More advantages:
Maximum safety when going up and down stairs using an electronically controlled motor and direct drive transmission with chair tracks.
Maximum loading capacity of the chair is 200kg.
Easy operation when climbing or descending stairs with control button.
Intergrated automatic breaking system, electronic brake locks tracks during stops on ascent or descent, the chair can instantaneous brake.
Including a rechargeable lithium-ion battery that is easy to remove and is commercially available.
Smooth 100mm front swivel wheels and extra tall 125mm rear wheels with brakes.
The tightness of the sliding belts is adjustable.
There are teeth on both sides of the sliding belt; the advantage is enhancing the friction between the stairs and the motor controlling sliding track.
The soft seat and back support are removable and washable.
Extending footrest and lower track angle increase patient sense of security.
Positive locking hinge mechanism ensures chair is locked in place whether deployed for use or folded for carrying and storage
Three position lift bar and handles reduce the strain.
The battery and motor both are waterproof, and real-time displays the remaining battery power.
Durable powder coated finish eliminates oxidation and facilitates easy decontamination- power washable
2.5cm track-to-ground clearance provides smooth rolling over carpet and rough surfaces
Large patient seating surface with removable soft seat panels
Extendable head and foot end lift handles support proper ergonomic lifting technique
Positive locking for security and rigidness, Folds to compact size for convenient storage
Electric Powered Stair Chair Detail Specifications
| | |
| --- | --- |
| Model | S01 |
| Product Size | 123x55x100/160 cm |
| Speed | 2.2 s /stair |
| Battery property | full charge:6-8 hours |
| Working time/charge | 2500 stairs |
| Folded size | 107x55x31 cm |
| Packing size | 111x58x33 cm |
| Load Limit | 200 kgs |
| Net weight | 30 kgs |
| Gross weight | 45 kgs |
| Battery Voltage | 24 V |
Note: This item is non returnable
Warranty: 1 year service warranty only on motors
Questions and answers of the customers
Only registered users are eligible to enter questions