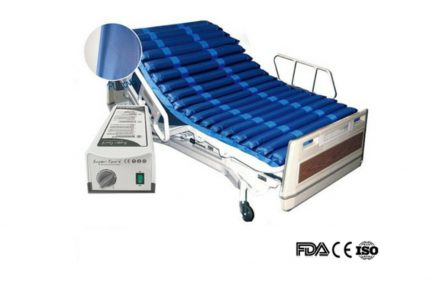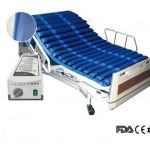 Air Mattress APP-P01
SUPERCARE
₹ 9,580.00
X
EMIs (Pay in Easy Monthly Installments)
AMERICAN EXPRESS BANK EMI PLANS
3 EMIs @ 12% pa
Rs. 3257.41/month
6 EMIs @ 12% pa
Rs. 1653.01/month
9 EMIs @ 12% pa
Rs. 1118.37/month
12 EMIs @ 12% pa
Rs. 851.17/month
18 EMIs @ 12% pa
Rs. 584.21/month
24 EMIs @ 12% pa
Rs. 450.96/month
Call 1800-313-2353 for expert assistance!
Notify me when Product is available
Description
Reviews (1)
Questions & Answers
Description
Air Mattress APP-P01
Air Mattress APP-P01
Operating Principles:
*Alternating pressure at a sufficient rhythm avoids prolonged vascular compression which is likely to cause tissue hypoxia.
* Alternating pressure adopts the mattress  to the patient's and their position.
Guidelines for Use
The traditionally accepted method of pressure sore control is to turn the client at regular intervals and to observe the areas of risk regularly.
Alternating pressure mattress is intended to compliment this treatment, observation of the client and turning when necessary should still be considered as part of treatment.
General :
* For patients who are likely to spend more than 15 hours per day in bed.
* For patients who are classed as medium to high risk of developing pressure ulcers.
Installation / Use:
1. Unroll the mattress.
2. Position it on the bed
3. Secure it to the bed with the fixing straps
4. Hang the compressor (pump) at the end of the bed (foot end) using the hooks.
5. Connect the mattress feed pipes to the compressor (pump) connector by matching the appropriate outlets
6.  Connect the electric power supply cable to the compressor.
7. Guide along the bed to the mattress plug socket and plug in.
8. Press switch to turn on the compressor(pump)
9. Before positioning the patient onto the mattress, wait until the mattress has been fully inflated.
10. select the pressure corresponding to the patient's morphology.
Cleaning/Disinfection :
* Do take care to disconnect from electrical supply before attempting to clean.
* Do take care to use a cloth impregnated with a mild detergent solution.
Advantages:
1. Taiwan medical class PVC,TPU material.
2. Mattress was welded one time by most advanced welding machine.
3. Pump motor cover use aluminum, working super silent.
4. Pump warranty 18 months.
5. ISO 13485, CE, FDA approval
Specifications
| | |
| --- | --- |
| Pump | Pad |
| Item : APP-P01 | Item : APP-T01 |
| Power supply : 110v/220v/50-60Hz | Standard size : 80″(L)x32-36″(W) |
| Air output : 7-8 liter/min. | 4″24 cells, 4.5″18 cells or 5″16cells |
| Pressure range : 70mmHg – 130 mmHg | Top cover : Nylon PU with buttons |
| Cycle time : 12 min. | Air cells : T01-Nylon/PVC |
| Power consumption : 7W | T02-Nylon/TPU |
| Fuse : 1A | Bottom : tarpaulin |
| Size : 29cm(L) x 12cm(W) x 10cm(H) | Mattress weight : 5.5-6.5kg |
| Weight : 1.6 kg | Weight Capacity : 145kg |
Questions and answers of the customers
There are no questions yet, be the first to ask something for this product.
Only registered users are eligible to enter questions