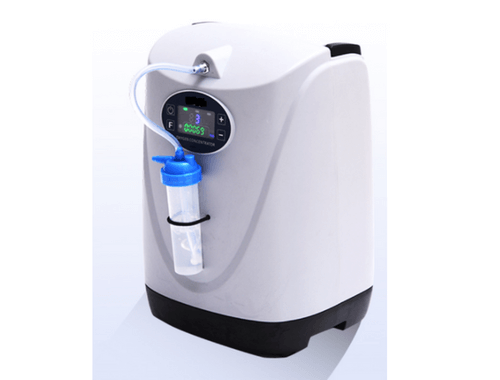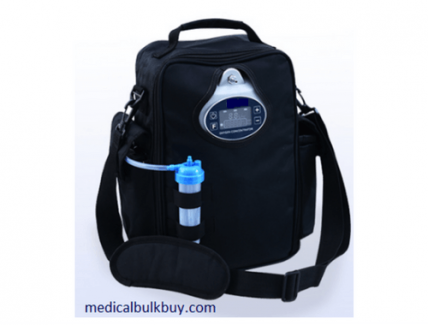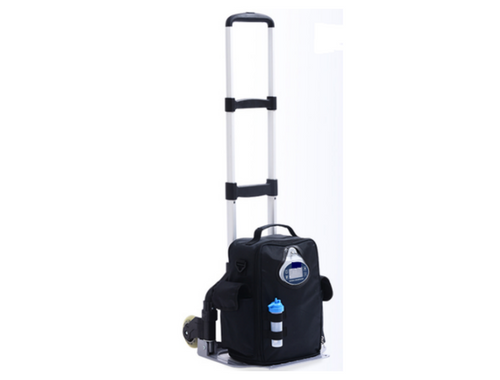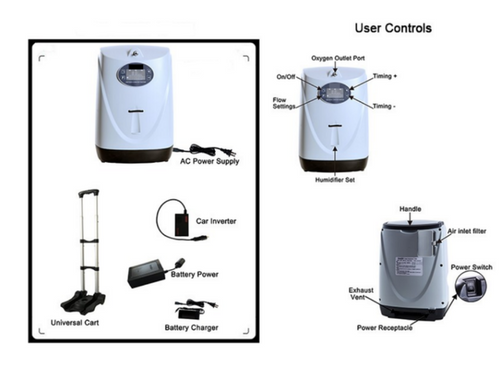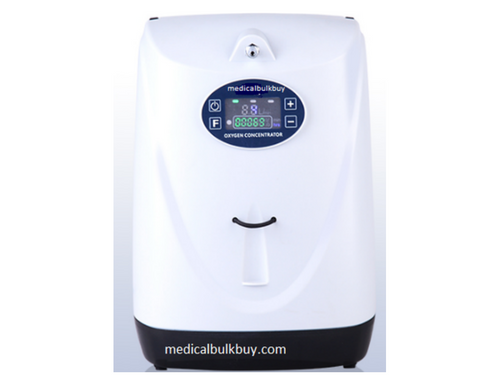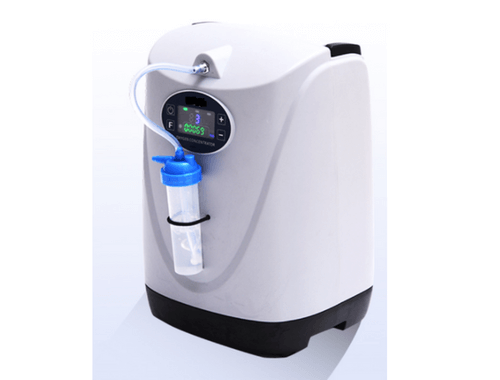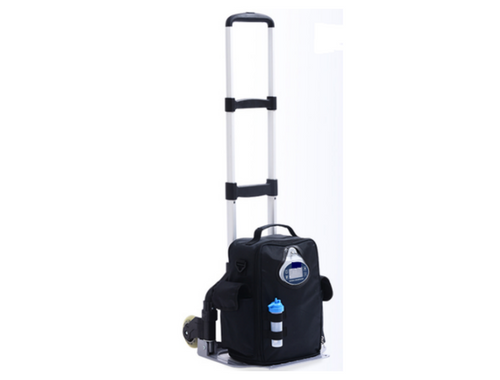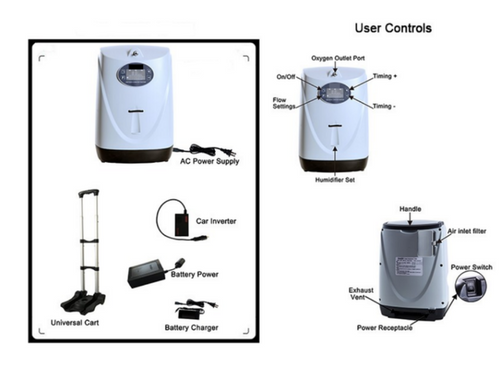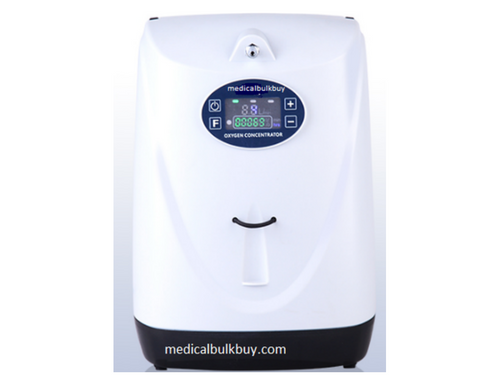 Portable Oxygen Concentrator
X
EMIs (Pay in Easy Monthly Installments)
AMERICAN EXPRESS BANK EMI PLANS
3 EMIs @ 12% pa
₹23767.55/month
6 EMIs @ 12% pa
₹12061.13/month
9 EMIs @ 12% pa
₹ 8160.15/month
12 EMIs @ 12% pa
₹6210.53/month
18 EMIs @ 12% pa
₹4262.65/month
24 EMIs @ 12% pa
₹3290.44/month
Call 1-800-3000-2613 for expert assistance!
Rs. 72,000.00
Out of stock
Notify me when Product is available
Description
Videos & Manuals
Reviews (10)
Questions & Answers (8)
Description
Portable Oxygen Concentrator
Portable Oxygen Concentrator
This Portable Oxygen Concentrator is light weight of 5.2 kg  produces oxygen purity range at 90%+5%/-5% with the adjustable flow from 1 to 5 settings.  It can be used by home power, car battery and lithium battery.  If you have any other questions, Medicalbulkbuy is happy to answer them. Make sure reading and understanding all the information contained in this guide before you operate your unit. This was developed by medicalbulkbuy to meet the regular demand by customers for car operated,battery operated, light weight and carrying cart type at very reasonable price first time in India.
Difference between regular and this portable:
Persons using this can go with this machine to their office,travel in cars where ever you have power supply as the machine is having carrying cart like Suitcase and bag. Persons using will feel comfort and lead their life like anyone around them.
Specifications:
Flow Settings
1 – 5 settings equal to 1-5 LPM flow
Oxygen Purity
90%+5%/-5% at any settings %
Outlet Pressure
8.5 PSI
Sound Level
≤ 40 DBA (nominal) at flat table, ≤45 DBA when travelling
Size
9.1 in x 8.7 in x 12.8 in (23.11 X 22.09 X 32.51 cm)
Weight
11.5 lbs (5.2 kgs) Machine only, 13.7 lbs(6.2 kgs) with battery
Remote controller
Wireless, 10 meters circle through the walls
User Interface
Push buttons, back-lit liquid crystal display (LCD)
Work Temperature
41° to 104°F (5° to 40°C)
Relative Humidity
15 to 95%
Altitude
Up to 12,000 ft (3657 m)
Storage Temperature
-4° to 140° F (-20° to 60°C) unit only
Storage Humidity
Up to 95%, non condensing
Power Consumption
90 W~100 W
AC Power Input
100 to 240 VAC, 50/60 Hz, 1.8 A max
AC Power Output
14.8 VDC, 8 A max
DC Power Input
Input 11. to 16.8 VDC, 20 A max
DC Power Output
14.8 VDC, 8 A max
Chemistry of Battery
Lithium Ion 14.8 VDC (nominal)
Battery Dimensions
6.1 in x 3.4 in x 2 in(15.5 cm x 8.5 cm x 5 cm)
Battery Weight
1.5 lbs (0.7 kg)
Battery Charge Time
Approximately 4 to 5 hours
Battery Duration
Approximately Two hours at 1-5 any settings, extra battery is optional
O 2 concentration
indicator
Green Light=Normal, Yellow=Caution <82%,
Red with Audible Alarm=Warning <75%
Audible Alarm Sound
55 DBA (nominal) at 39 in (1 m) distance
Alarm type
Loss of power, High temperature, Low Therapeutic O 2 Out
Important Safety Rules
When using electrical products, especially for children, basic safety precautions should always be followed. Read all instructions before using. Important information is highlighted by these terms:
DANGER To reduce the risk of serious or fatal injury from electrical shock: 1. Do not use while bathing. 2. Do not place the product where can be splashed liquid or fall into bathtub, water or other liquid. 3. In the event of unit falling into water, do not reach for the machine. Turn off the home power immediately then send it to dealer or our authorized service center for examination and repair.
WARNING 1. Check the electric rating in the unit label and wall outlet before connecting power cord. 2. Keep all electrical cords away from heated surfaces. 3. Do not operate this unit if it:
● has been dropped or knocked heavily.
● has been splashed liquid.
● has a damaged cord or plug.
● is not working properly.
Usage of the machine:
Portable Oxygen Concentrator is used between 1 ltr to 5 ltr. At 1 to 3 ltrs the green light is attained early and  generally it takes 20 minutes time to get the green light at 4 and 5 ltr . So the yellow light glows and then after running the machine sufficient time, it gets the green light. So the attendant has to give oxygen to patient after getting the green light.  Medicalbulkbuy checks the quality of the machine before dispatching the product as a final check on quality.
WARNING This device produces high levels of oxygen, which promotes rapid burning. Do not allow smoking or open flames within 5 feet of this device and any oxygen delivery accessory. Do not use oil, grease or petroleum-based products on or near the unit. Disconnect the power cord from the electrical outlet before you clean or repair the unit
Warranty: Two years or 2000 hours
Questions and answers of the customers
A

Hi Sir, Extra filer will come with the machine and it comes for more time. It can be air cleaned by forced air. It depends on your usage and maintenance. Generally comes up to 5000 hours under frequently cleaning.

A

Hi Sir,

    As the machine is portable, and used generally for mobile purpose while in office or on travel or on doctors visit. This machine shall be handled carefully then you get the maximum out put. This can be used 3 to 8 hours per day. 

 There will be a cooling fan cooling the compressor and the hot air comes out of the machine from the bottom. So make sure that the there is no obstacle  for the exhaust at the bottom.
While using in car make sure the car battery is not very old.
Car inverter/battery inverter gets cooled by a small cooling fan inside. so keep the exhaust open to air while using in car battery or machine battery
In case of any issues abnormal we attend with patience. Kindly answer to our questions as our customer care team needs some basic feed back from you. We will try our best to satisfy you.  
Make sure that there are no bends in Oxygen cannula and connecting pipe of Humidifier bottle.

A

Hi Sir ,

  You need to contact the Air flight services people in advance. And we suggest to carry a doctor prescription along with you and enquire the concerned flight service providers. If you does not need oxygen while in flight discharge the battery fully  then there may be no objection. Some of our customers took the machine to Dubai and Tangania. But as a seller we can not promise whether they allow or not. It purely depends on the service providers and the preparation you do.

A

Hi Sir, 

It works up to two hours at 1 to 2 ltr flow rate. At 5 ltr it works for one and half hour. You can purchase additional battery if required

A

This portable oxygen concentrator has one battery, if you need extra battery it will cost you extra Rs.9000/- For further queries please contact info@medicalbulkbuy.com

A

No, It is imported from other country

A

Hi Sir,

   as the amount is beyond the limits of our logistic partners so COD is not possible for this item. But our customer care team will help you alternate way using COD option on call or chat.

A

Two years or 5000 hours which ever is earlier
Only registered users are eligible to enter questions