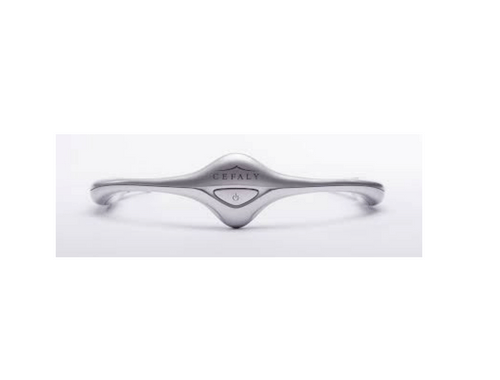 Cefaly Drug-Free Migraine Pain Relief
X
EMIs (Pay in Easy Monthly Installments)
AMERICAN EXPRESS BANK EMI PLANS
3 EMIs @ 12% pa
₹13600.88/month
6 EMIs @ 12% pa
₹6901.93/month
9 EMIs @ 12% pa
₹ 4669.61/month
12 EMIs @ 12% pa
₹3553.95/month
18 EMIs @ 12% pa
₹2439.28/month
24 EMIs @ 12% pa
₹1882.94/month
Call 1800-313-2353 for expert assistance!
Rs. 50,000.00
Out of stock
Notify me when Product is available
Description
Reviews (0)
Questions & Answers
Description
Cefaly is a CE and ISO certified medical device designed to treat and prevent migraine headaches. Cefaly can considerably reduce or replace the consumption of side effect producing medications. Cefaly is the first cranial analgesic electrotherapeutic device to acquire ISO medical certification proven effective on migraine pain with no side effects.
Most headaches and migraines involve the trigeminal nerve. Its superior branch ends at the exit of the eye socket, underneath the skin of the forehead.
An adhesive electrode is positioned on the forehead and Cefaly connects to this. Through the electrode, Cefaly generates precise micro-impulses in order to stimulate the nerve endings of the trigeminal nerve.
Neurostimulation of the trigeminal nerve with Cefaly® produces a relaxing effect. Regular repetition of this relaxing effect helps reduce the number of attacks of headache and migraine.
Cefaly is the first external trigeminal neurostimulator. Cefaly works by stimulating the trigeminal nerve utiliz- ing an electrode that is applied to the forehead. This is where the two essential branches of the trigeminal nerve (supratrochlear and supraorbital) extend fur- thest to the surface of the skin.
Cefaly is designed and developed in accordance with the strictest quality standards eliminating all possible short-term and long-term dangers.
Cefaly is an innovative, lightweight and extremely cost effective pain relieving solution. Its self adhesive electrode is placed directly on to the forehead. Worn conveniently like a pair of eyeglasses, Cefaly connects to the electrode and begins its subtle treatment.
Questions and answers of the customers
There are no questions yet, be the first to ask something for this product.
Only registered users are eligible to enter questions