BIPAP/CPAP Full Face Mask (Medium)
BIPAP/CPAP Full Face Mask is built on an entirely new, lightweight platform. It  is designed to be extraordinarily appealing to patients and extremely simple for you to fit. A unique modular design uses one frame to which a petite, small, medium, or large-size cushion simply attaches with one click—no more matching frame sizes with cushion sizes. By simplifying full-face mask design to require just a single, super-simple "click" to assemble the cushion to the mask frame or to detach it for cleaning. This mask is smaller and lighter than all leading traditional full face masks. BIPAP/ CPAP Full Face Mask  has only four parts—including a one-piece cushion.
The mask features:
1. Quiet micro exhalation port just like that used on True Blue, Easy Life and other masks.
2. Fine-glide forehead adjuster.
3. Simple but sturdy in laid headgear tabs.
4. It is made of eco friendly, medical silicon, plastic material.
5. It is very easy to wear and remove.
6. It is light, safe, durable to use.
7. It is suitable for the patients who find the nasal mask is not suitable because of mouth is open.
Intended Use:
The Full Face mask is a ventilation device of CPAP or Bi-level therapy. It is used by Health care professional for oxygen transmission to patient  This product can be repeatedly used after hand wash.
COMPATIBILITY WITH THE FOLLOWING BIPAP/CPAP  MACHINES:
1.  Philips Auto BIPAP 760 series
2.  PHILIPS REMSTAR Auto Cpap 560 series
3.  RMS BIPAP/CPAP/AUTOCPAP
4.  BMC BIPAP/CPAP/AUTOCPAP
5.  RESMED MODELS
Wearing Procedure:
 Connect the headgear to the mask. Position the mask over your face, and press the mask cushion gently against your face,pull the headgear over your head.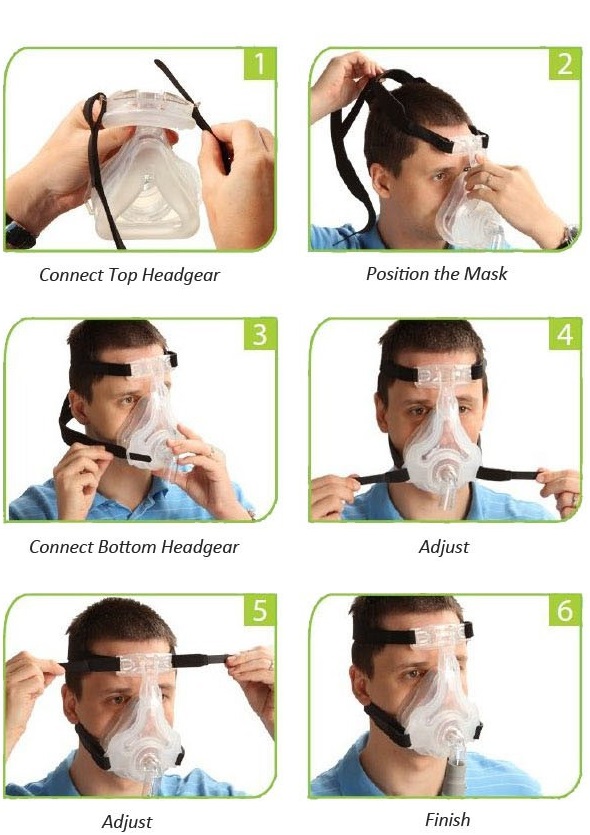 Cleaning Instructions:
This product can be repeatedly used after hand wash. The headgear should be cleaned weekly or  when needed by hand. Hand wash the mask in warm water with mild liquid dish washing detergent
 Caution:
1.Do not use bleach,alcohol,cleaning solutions containing bleach or alcohol or cleaning solutions containing conditioners or moisturizers.
2. Rinse thoroughly with drinking quality water and air dry out of direct sunlight. Make sure that the mask is dry before use. Lay the headgear flat or line dry. Do not place the headgear in the dryer.
3. Inspect the mask. If any parts are damaged or can not be cleaned , replace the  mask.
Warnings:
1. Bipap/CPAP  full face mask is not suitable for providing life support ventilation.
2. This mask is designed for use with CPAP OR bi-LEVEL SYSTEMS recommended by your health care professional or Respiratory therapist. Do not wear the mask unless the CPAP or BIPAP is turned on and operating properly.Do not block or try to seal the exhalation port.
3. If oxygen is used with the device,the oxygen flow must off when the device is not operating. Oxygen supports combustion. Oxygen should not be used while smoking or in the presence of open flame.
4.  At a fixed flow rate of supplemental oxygen flow, the in haled oxygen concentration will vary,depending on the pressure settings,patient breathing pattern, mask selection and the leak rate. This warning applies to most types of CPAP and BIPAP machines.
5.  The patient's physician should be contacted if the patient experiences the following symptoms while using the mask or after removing it:  Unusual chest discomfort, shortness of breath, stomach distension, belching, or severe headache; drying of eyes, eye pain or eye infections,blurred vision.(consult ophthalmologist if symptoms persist)
6. A minimum of 3 cm H2o (hpa) must be maintained when using the mask.
7. This mask is not recommended for the patients who are taking a prescription drug that may cause vomiting.
8. Hand wash mask prior to first use and daily.
Storage condition:
Temperature: -5 C — 50 C
Relative humidity: <85%, corrosive gas free, well ventilated.
Selection for Size of the Mask:
BIPAP/CPAP Full Face Mask is a medium size mask covers both Mouth and Nose while using. As described in the following diagram, when H is more than 9 Centimeters and less than or equal to 10 centimeters one can go with medium size mask.